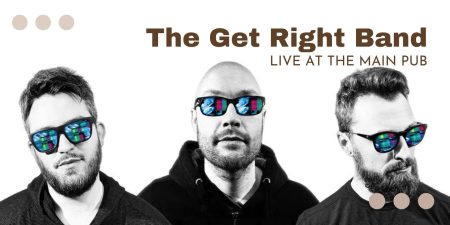 "The Get Right Band filters 60's/70's psychedelia and 90's alternative rock through a modern lens–
as if Led Zeppelin, Pink Floyd, and Nirvana co-wrote an album produced by Danger Mouse and Dan Auerbach."
-American Songwriter
The Get Right Band is a psychedelic indie rock power trio committed to relentlessly following their muses to honest self-expression, to whatever excites them and pushes them into unexplored territory, to capturing some version of truth. American Songwriter writes that the Asheville, NC based group, "filters 60's/70's psychedelia and 90's alternative rock through a modern lens–as if Led Zeppelin, Pink Floyd, and Nirvana co-wrote an album produced by Danger Mouse and Dan Auerbach."
The Get Right Band formed in 2011, built around the musical brotherhood that guitarist/singer/songwriter Silas Durocher and bassist Jesse Gentry have formed playing music together since middle school (25 years!). In 2013, the band enlisted Jian-Claude Mears on drums, and the trio set about inventing their own sound. Durocher, who is a trained composer and has been commissioned to write for symphonies and chamber groups, has guitar chops that can soothe or rage, with a charismatic swagger as frontman and singer. Gentry's virtuosic bass playing "catapults from elastic to nasty" (The Mountain Xpress) and Mears' powerful drumming has a "precision, passion, and inescapable momentum" (Live For Live Music). Over the years, GRB has defined their sound through constant evolution, building to the hook-driven, synth-heavy pop/rock/psych band they are today. The Huffington Post writes, "their songs are infectious and take you immediately to a place. The lyrics are smart and bear weight."
"The Get Right Band are the type of performers that you just know will break out.
Their songs are infectious and take you immediately to a place. The lyrics are smart and bear weight."
– The Huffington Post
The Get Right Band has shared the stage with Dr. Dog, Everclear, Cracker, UB40, Rusted Root, Smash Mouth, and Lifehouse; been featured on NPR's World Cafe, Paste Studio, and WTF with Marc Maron; and performed at major venues and festivals including The Fillmore, Brooklyn Bowl, Theatre of the Living Arts, The Orange Peel, FloydFest, Bristol Rhythm & Roots, and Riverbend Fest. They have released four studio albums and a live album, and their latest LP, iTopia, dropped on April 7, 2023.
** Enjoy this amazing act Live at The Main Pub – no door charge!
Please Note: The Main Pub has implemented a 15% Entertainment Fee on checks open in the Designated Music Area in lieu of a cover or door charge for live entertainment.