Sirsy – Live at The Main Pub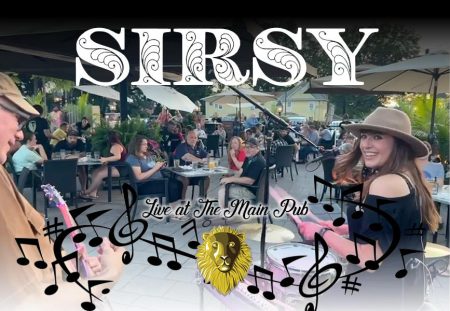 These multi-instrumentalists manage to sound like a full band despite there being just 2 of them and somehow do it all with big smiles
Performing outside on the patio – (moving indoors at 8pm if the weather doesn't cooperate)
No Door Charge
Please Note: The Main Pub has implemented a 15% Entertainment Fee on checks open in the Designated Music Area in lieu of a cover or door charge for live entertainment.
***
TOUR: https://www.sirsy.com/tour
VIDEO: https://youtu.be/yBoXYvUwRDg
Sirsy is an indie pop-rock duo that's chock full o' soul & sass! Fronted by singer/songwriter Melanie Krahmer, who is also the band's drummer, Sirsy wows crowds at 250 shows per year all over the US & Canada. Mel's bandmate is her husband & co-writer Rich Libutti who plays a well loved and road worn Rickenbacker through a pedal board full of vintage effects. These multi-instrumentalists manage to sound like a full band despite there being just 2 of them and somehow do it all with big smiles on their faces. Come celebrate life with them!