Roberto Morbioli Band w/ Liviu Pop & Lenny Bradford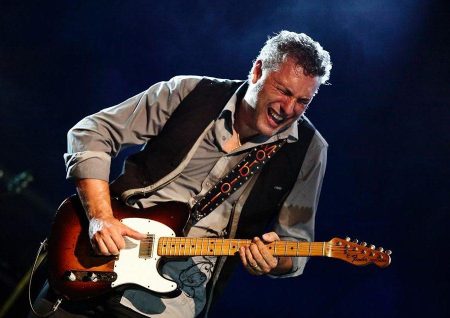 Roberto Morbioli plays the Blues.
He can breathe fire from his ax like a young Clapton or Stevie Ray. Crowded, noisy bars hush a bit when he steps up and folks look around to see who this is making such a holy wail.
Roberto was born in Verona, Italy and picked up the guitar when he was very young. He has played at some of the biggest European festivals like Amsterdam Blues Festival, New Orleans Music Festival in Ascona and San Remo Blues Festival. He has performed in the USA at B.B. King's Blues club in Memphis, "Antone's" in Austin, Texas, the North Atlantic Blues Festival in Rockland, Maine and regularly tours in New England. In 2011 he was granted a US working visa as an artist of extraordinary ability.
In 1991 he founded his own band MORBLUS which brought him critical recognition and awards. Since 2015, he dedicated himself to his new acoustic project, the Roberto Morbioli Trio with whom he recorded "Acoustic Me". The CD was awarded with the Academia Award as Best Blues CD in January 2016. His personality and unique playing style shine through all his interpretations so much that, even while recalling the styles of blues greats such as Freddy King, Albert King, B.B. King, Albert Collins, T. Bone Walker, Steve Ray Vaughn and Eric Clapton, you see and hear that every note coming out ot this Italian bluesman is coming straight from his big heart. And it's so infectious that you're caught up in it before you realize what's happening. Morbioli's guitar playing is nothing short of magic, and as a singer, his powerful voice recalls Sam Cook, O.V. Wright, Little Milton, Otis Redding, Robert Cray and Donny Hathaway. You don't even think about it, you just know that the blues flow so naturally for Roberto Morbioli, and his guitar playing and vocals are so polished, he sounds as if he grew up closer to Chicago than Verona, Italy. Rob Mo's new release "From Scratch" will be published this autumn. The album is the first production of Roberto Morbioli under the name ROB MO and its title already suggests what it's about: After almost 30 years with his band MORBLUS and other projects such as his acoustic trio, Roberto is returning to the roots of his musical career, back to the generic and clean sound of an electric trio. Back to a purer tone with every note played for a purpose, less ornaments. A good cook needs few ingredients to prepare a special dish with a distinctive taste!
read more – > https://robertomorbioli.com/