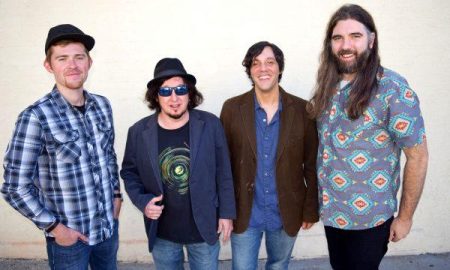 Enjoy a night with PEAK – Psychedelic Indie Funk, Live at The Main Pub
In late 2016 Brooklyn-based guitarist and songwriter Jeremy Hilliard began performing and touring under the name PEAK. In 2018, he released the now critically acclaimed debut album Electric Bouquet, produced by Dave Brandwein (Turkuaz). In 2019 the band took on a life of its own as one by one some of the best musicians in the improv rock scene joined the group including Kito Bovenschulte (Particle) on drums, Josh T. Carter (Hayley Jane and The Primates) on bass, and newcomer extraordinaire Johnny Young on keys. The group's music, described as Psychedelic Indie Funk, is a mix of poetic, melodic songwriting, moody electrofunk, riffed-out blues-rock, and exploratory danceable improvisations. Some of their many influences include artists such as The Band, The Talking Heads, Phish, The Grateful Dead, Radiohead, James Brown, and Miles Davis, as well as modern songwriters such as Conor Oberst, Mac Demarco, Kurt Vile, and Jack White to name a few.
Jeremy is no newcomer to the scene. He established his songwriting voice as a bandleader and lead guitarist for the band Turbine, with whom he made 4 studio albums and toured nationally for many years, including regular appearances on the some of the country's biggest stages such as Bonnaroo Music Festival, Telluride Music Festival, Gathering of the Vibes, Moedown, and many others. As a songwriter, he is a lyric-based storyteller and with a wide palette of moods. As a guitarist, he lists as early inspirations BB King and Jimi Hendrix, and using that as a jumping-off point he utilizes jazz concepts to tell longer, more complex sonic stories. Jeremy found his perfect complement in the multitalented keyboardist Johnny Young. Johnny is an established presence on the New York music scene and is highly regarded as a soloist, singer, songwriter, producer, and composer. Friends for many years, Jeremy and Johnny finally got the chance to work together in 2018 when they began writing songs together in earnest. His soulful voice, virtuosity on the keyboards, understanding of harmony, and natural chemistry with Jeremy have taken the band to new heights. All of which is made even more remarkable by the fact that he has been blind since the age of 17. North Jersey drummer Kito Bovenschulte is the heartbeat of the band. Kito began his career in the Tri-State area playing with the regional and experimental rock band, Fikus. As of 2016 he has taken on the role of drummer for Jamtronica pioneers Particle with whom he performed on a national and international level, playing at some of the country's most notorious venues and music festivals. The newest member of the group is bassist Josh T. Carter (Haley Jane and The Primates, Sundub) who holds the band together with thunderous precision and an impeccable ear. With the addition of Josh on bass, the band found the sound that they had been looking for and begin work on their sophomore album, to be recorded in 2020.