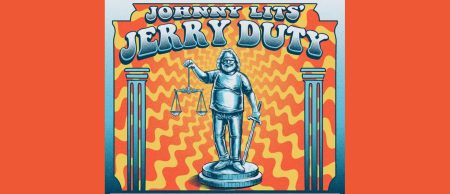 Johnny Lits' Jerry Duty has quickly risen to become one of the premier Jerry Garcia tribute acts today
Shows include all star lineups, female harmony singers and authentic instrumentation that is easily recognized and will "take you there". Their mission is not only to pay tribute to the music performed by Jerry throughout his career but most importantly deliver the "Experience" which is heavily based on collective improvisation of the artists and audience, very rarely seen today.
Johnny Lit is the band leader, lead singer & guitar player of Jerry Duty the Jerry Garcia tribute band. Johnny started playing Guitar around the age of 9 years old and music has been his passion ever since. Lit's guitar playing Ranges from Jam band, Blues, Country and even bluegrass influences. His approach to music and performing is a very unique one in the sense that it pays respect to true great improvisers before his Time. Every song and show is truly different as he feels that we all " the audience and performers" make music together as an organic, living, breathing thing. The songs can take other directions, go longer or shorter, faster or slower performed in the moment for that moment. Johnny has performed with members of many well known bands such as Rusted Root, Donna Jean and the Tricksters, John Kadlecik band, Breaking Benjamin, Cold, Chubby Checker Band, Cabinet, Bob Weir's Ratdog, New Riders of the Purple Sage and more. Lits is a career musician that can be found most of the time performing around the north east of the USA with Jerry Duty, his jamgrass Duo/Trio, as well solo acoustic performances.