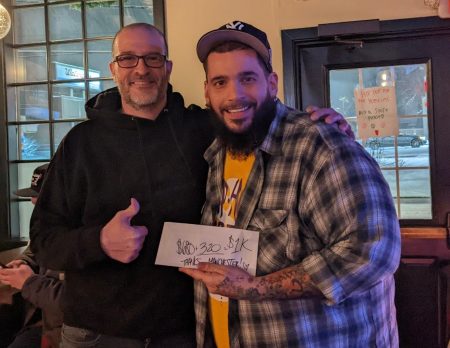 #HipHopfortheHomeless Using Hip Hop and elements of Hip Hop to raise awareness, funds & donations for the needy people of Connecticut.
Joey Batts • Hip Hop for the Homeless
Connecticut high school English teacher and regionally famous rapper, Joey Batts was faced with the realization that his impression of what a homeless person looks like was off base. After learning that he had students with food insecurity and housing needs, he looked for ways to help. Batts says, "The concept began with just realizing that homelessness affects so many people – of all ages, and many times, not the typical displacement cases we see with our eyes. Coming to the realization that the holidays are a difficult time of year for anyone, more even so for folks who don't have a home or a support team behind them, so why not try to help?" In the years since it's inception, Hip Hop for the Homeless has raised nearly $30,000.00 which goes directly to partner community agencies across Connecticut that support people with nutrition, housing, clothing, and job training needs.