Hip Hop for The Homeless 10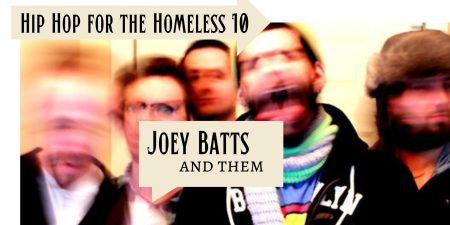 #HipHopfortheHomeless Using Hip Hop and elements of Hip Hop to raise awareness, funds & donations for the needy people of Connecticut.
Joey Batts • Hip Hop for the Homeless
Connecticut high school English teacher and regionally famous rapper, Joey Batts was faced with the realization that his impression of what a homeless person looks like was off base. After learning that he had students with food insecurity and housing needs, he looked for ways to help. Batts says, "The concept began with just realizing that homelessness affects so many people – of all ages, and many times, not the typical displacement cases we see with our eyes. Coming to the realization that the holidays are a difficult time of year for anyone, more even so for folks who don't have a home or a support team behind them, so why not try to help?" In the years since it's inception, Hip Hop for the Homeless has raised nearly $40,000.00 which goes directly to partner community agencies across Connecticut that support people with nutrition, housing, clothing, and job training needs.
Joey Batts and Them are a five-piece alternative hip-hop band, starting in 2011. In late 2012, the band reached the current lineup, comprised of Joey on vocals, Tony Volpe on guitar, John Dotson on bass, Marty Wirt playing some KILLER keys and Mike "Beatwiz" Spellman on drums and percussion. With funky grooves, and plenty of hooks, Joey Batts and Them can turn any show or event into an outright party. And with shows all over New England, the Northeast, and beyond, be sure to check them out, and you can be the best of friends!Taking the live hip hop scene by storm, Joey Batts never takes "no" for an answer -you either love his sound right away, or his voice kidnaps you until you change your mind. A lyrical genius, and an amazing front man with impeccable crowd control, rolled into one – Joey Batts has proven to be an asset to CT's growing underground hip-hop culture.After almost a decade of being in the New England hip hop scene, both with highly respected groups, and as a successful solo artist, Hartford's own adopted son returns to the stage with a full lineup to get the crowds going, and to let you know that he's your best friend. Joey Batts isn't just a talented wordsmith and MC, he's also one of the most interactive and funniest stage presences around. In a scene where bragging about how big your watch or car wheels are is the norm, who else can get a crowd going while rapping about fighting crime as a superhero, being your wingman, or life in the 860?