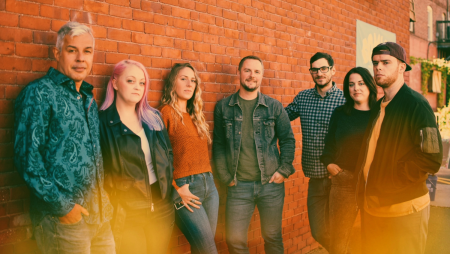 Americana-Pop/Folk-Soul
Originating as an acoustic trio, Kara Wolf, Laura Buchanan and Kerrie Bowden maintain their vocal roots and continue to shape their sound through collaborative songwriting. With over seven years of writing, performing and touring together, these Western Massachusetts natives have honed a special sound that brings the listener in and surrounds them with a powerful combination of intricate harmonies, contagious melodies and moving rhythm. Their voices belong together, artfully weaving their soulful lyrics into songs that will withstand the test of time.
When listening to Eavesdrop's debut EP, The Afterglow, you'll hear the trio's vocally charged acoustic, folk, soul roots. The band expanded for their first full length album Tides, co-produced by Alan Evans (Soulive) and Ross Bellenoit (Amos Lee, The Sweetback Sisters). This record brings the listener on a ride alongside the three songbirds and, with the new band members, takes a deeper look into the life events that fostered their creativity.
With their latest self-titled LP, Eavesdrop has found their sonic home. Incorporating some of the valley's finest musicians — Jared Quinn (John Cruz, Live on the Planet w/ Kim Zombik) on guitar, Sturgis Cunningham (Peter Tork, Martin Sexton) on drums, and Marc Seedorf (Dinosaur Jr., Mark Mulcahy, Eat Fire Spring) on both bass and production — the band has composed and recorded each song together. You can hear the synergistic approach and the heart that went into each track.
In late 2021, the group underwent some changes with the introduction of its newest members Darby Wolf (currently: Matt Schofield, Band of Killers, formerly: Rubblebucket, Ryan Montbleu) on keys, and Andrew Ricketts (currently: Foreign Movie, formerly: D-Soul Davis Experience, CJ Edwards & The Funk Fellowship) on drums. Writing, recording, and performing continuously, you can find the band scattered about the valley and beyond via their live tour schedule.
KARA ROSE WOLF – VOCALS & AUX PERCUSSION
KERRIE BOWDEN – VOCALS & AUX PERCUSSION
LAURA BUCHANAN – VOCALS, ACOUSTIC GUITAR, & STOMP
JARED QUINN – ELECTRIC GUITARS
DARBY WOLF – KEYS EXTRAORDINAIRE
MARC SEEDORF – BASS GUITAR & PRODUCTION
ANDREW RICKETTS – DRUMSET
Check out more! >>
https://www.facebook.com/EavesdropBandMA