Beau Sasser's Escape Plan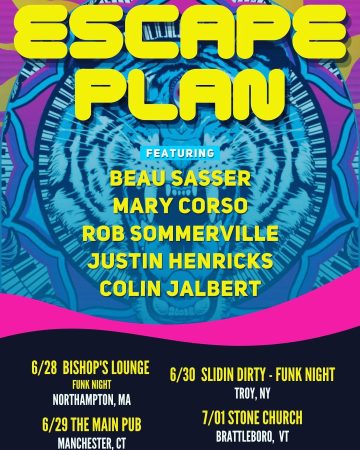 The patio at The Main Pub is psyched to host a special night of Beau Sasser with the full Escape Plan lineup!
If the fabled Dr. Funkenstein set out to make a two-headed, ivory tickling, guitar ripping, gut-busting, crowd-slaying monster and a catastrophic disaster in the lab went perfectly wrong, Beau Sasser's Escape Plan would be the byproduct. Beau has assembled a very special lineup for this run of shows in 2023 and features the lovely vocalist Mary Corso and Rob Somerville of Kung Fu! Rounding out the band is Justin Henricks on guitar and Colin Jalbert on drums to craft a perfect brew of organ-driven, hard-hittin', boogaloo-rooted power funk with a rock 'n' roll spirit. This Northampton, MA-based 5-piece funk machine is a happy accident that has come out of the lab with a mission and won't be stopped anytime soon.
UPDATE: We've changed the event to a non-ticketed event – and there is no door charge for entry.
In lieu of a door charge – The Main Pub will be implementing a 15% entertainment fee on check during music on the patio.